At the beginning of March the new duet packs went on sale: the
Green Lemon & Yogulate
and the
Dark Chocolate & Coffee
.
The
Catànies® Duet
are the most original format, as it brings together two flavors in perfect harmony.
Pack Duet Green Lemon & Yogulate
It is a combination of our freshest flavors and is ideal for lovers of acid tastes. The
Green Lemon
are the most refreshing Catànies®, which combine white chocolate and dried fruit with the citrus of the lemon. And the
Yogulate
are a fresh combination of white chocolate and nuts with a touch of Greek yogurt. All of them are handcrafted by caramelizing Marcona almonds.
If you want to eat the Catànies® following the tasting order to live an authentic experience, we recommend you taste the Green Lemon first and then the Yogulate.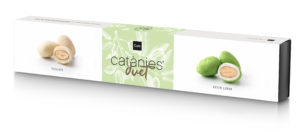 Pairing Proposal
If you want to combine the Catànies® with a drink, we will explain below a pairing proposal.
Combine
Green Lemon
with:
Red wines aged in barrels such as Merlot & Garnacha

Young and fresh white wines such as Xarel·lo & Macabeu

Cavas "Brut" & "Brut Nature"

Blonde beer

Coffee (Colombia) with ice

Gin & Tonic
Accompany the
Yogulate
with:
White wines aged in barrels such as Chardonnay & Garnacha Blanca

"Brut" Cavas with a classic variety: Macabeu, Xarel·lo & Parellada

Moscatel & Orange Liqueur

Grappa brandy

IPA beer

Arabica coffee origin Ethiopia
Pack Duet Dark Chocolate & Coffee
It is a combination of our strongest and most bitter flavors. The
Dark Chocolate
are the Catànies® dedicated to the purest chocolate addicts. Caramelized Marcona almonds are covered in a dark chocolate praline and dusted with 70% cocoa powder. And the
Coffee
are ideal for coffee lovers. Unlike the Dark Chocolate, they are covered in a coffee praline.
If you want to try the Catànies® following the order of the bitter taste, we will show you the Dark Chocolate first and then the Coffee.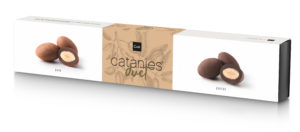 Pairing Proposal
Try the
Dark Chocolate
with:
Red wines such as Grenache & Syrah

White wines aged in barrels such as Merlot & Garnacha

Aged wines from Oporto such as Touriga & Tinta Barroca

"Brut" Cavas with a classic variety: Macabeu, Xarel·lo & Parellada

Brandy

Lager or Porter beer

Arabica coffee origin Colombia
Combine the
Coffee
with:
Aged wines from Oporto such as Touriga & Tinta Barroca

"Brut" Cavas with a classic variety: Macabeu, Xarel·lo & Parellada

Orange liquor

Brandy

Arabica coffee origin Ethiopia