Uns investigadors de la Universitat d'Exeter a Gran Bretanya van construir una impressora en 3D que imprimeix en xocolata. Ara un ja pot dissenyar els seus propis dolços, cors, lletres, figuretes, qualsevol cosa. Una idea perfecta per treure de la màniga regals autèntics.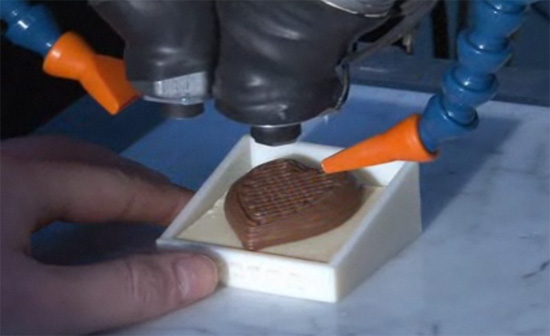 La diferència principal entre aquesta i les impressores 3D de plàstic és, òbviament, el material. La xocolata no s'asseca tan ràpid com el plàstic i cal tenir un sistema d'escalfament i enfriamento especial pel que serà difícil tenir una impressora així a casa però en canvi, és més probable que hi hagi centres d'impressió d'aquest tipus (i alguns altres nous materials). Trobat a:
www.fayerwayer.com
Unos investigadores de la Universidad de Exeter en Gran Bretaña construyeron una impresora en 3D que imprime en chocolate. Ahora uno ya puede diseñar sus propios dulces, corazoncitos, letras, figuritas, cualquier cosa. Una idea perfecta para sacarse de la manga regalos auténticos.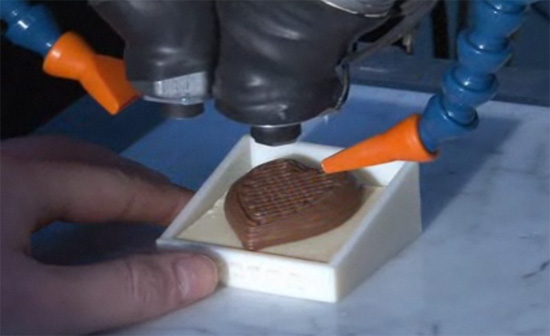 La diferencia principal entre esta y las impresoras 3D de plástico es, obviamente, el material. El chocolate no se seca tan rápido como el plástico y hay que tener un sistema de calentamiento y enfriamento especial por lo que será difícil tener una impresora así en casa pero en cambio, es más probable que haya centros de impresión de este tipo (y algunos otros nuevos materiales). Encontrado en:
www.fayerwayer.com
They say that with a 3D printer, you can make whatever you want. I want a snack. And I'm in luck, because in what may be the best coincidence ever, chocolate can be used as a 3D printing material. Computer, make me a bonbon! Most 3D printers use plastic as a source material because it's malleable and melts at a relatively low temperature. Chocolate, with its melt-in-your-mouth goodness, also seems to work, and researchers («researchers») at the University of Exeter in the U.K. have built themselves a computer-controlled 3D chocolate printer.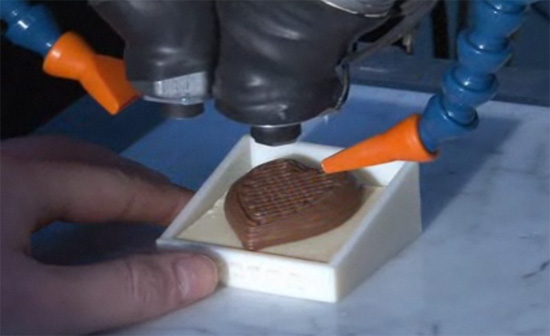 Chocolate is slightly harder to work with than plastic because it's both harder to feed through the printer and harder to keep stable after it's printed. Solving these problems required some clever heating and cooling systems, which are complicated enough that you're probably not going to see desktop 3D chocolate printers showing up at your local Home Depot anytime soon. What you will see are 3D chocolate printing services, where you can submit a design and get back an edible objects including «jewelry and household goods.» I can only hope that the next time I try to eat a chocolate pearl necklace, I won't be so horribly disappointed. Source:
www.fayerwayer.com